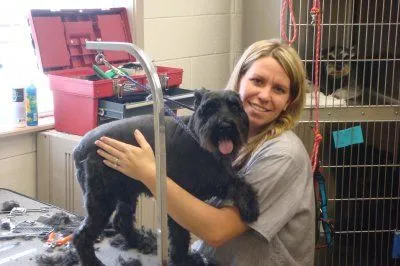 West Mountain Veterinary Hospital has consistently provided Payson and all the surrounding communities with excellent grooming services. Crista Backus has worked for the hospital for 16 years and still enjoys meeting clients and admitting their pets for a day of pampering. Services include:
Dog and Cat Grooming
Individual Bathing
Heat Drying
Combing, brushing, detangling
Shaves, custom cuts, and styles to suit your pet
Personal accommodations as requested
Nail Trim (no additional charge)
Teeth Brushing
Pet Grooming Tips:
Start your pet at a young age so that they learn to enjoy the grooming experience
Play with puppies and kittens paws from an early age, you can even start clipping the tips so they get used to it.
Brush your pet daily
Clean paws off after coming in when it is wet or snowy outside
Groom professionally every 6-8 weeks
Do not use people shampoo on your pets. It can dry the hair coat out.
Do not bathe excessively, this too can dry the hair coat out.
If you notice matting in your pets coat, try and get it out as soon as possible. Matting can lead to skin sores.
Proper nutrition is key to a healthy shiny coat.
Get to know your groomer. Ask what you can do at home to help make the grooming experience enjoyable for your pet.
In order to protect the other animals here for grooming and/or boarding, we require all animals who come in to be groomed to have current, up to date vaccinations. If your pet is overdue, you may schedule this to be done while your pet is here to be groomed. If your pet is not a current patient of ours, please bring records of his or her vaccinations. Thank you for understanding the importance we place on keeping your pets vaccinated.