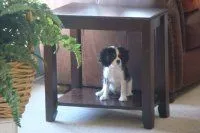 Surgery: We offer a full range of small animal surgical options. We routinely spay and neuter pets, crop ears, tail docks, dewclaw removals or even just a nail trim, but also offer orthopedic and more advanced soft tissue surgery. We routinely perform tumor removals, C-sections, exploratory surgery, foreign body removals, and other abdominal procedures. Each surgical case is considered on an individual basis taking into account age, medical status, and overall health. Pre-operative blood work and IV fluids are often on the list of precautions we take. We use various anesthetic options and will select one that is right for each patient. Our well-trained surgery technicians use special equipment to monitor your pet during surgery.
Medicine: Many common medical problems in humans are also common in animals. Our first step is to learn your pets' history and do a thorough physical exam. Often lab work is needed and we send our samples to a veterinary lab with a specialist on hand to help interpret results. Our in-house radiology department is also important in finding a diagnosis.
Wellness: Our wellness plans begin with a thorough history and a physical exam. Based on these findings, we are able to choose the correct vaccines and parasite management plans. Available vaccines are evaluated by our doctors to ensure your pet receives safe and affordable care.
Lab Work: Many options are available if your pet needs additional diagnostic testing. In-house lab work includes tests for FELV/FIV, heartworm, and parvo virus. We also perform fecal floats and urinalysis as needed. Full blood panels, senior panels, and special testing is sent to a veterinary specialty lab for analysis. More immediate testing needs are taken care of at the local hospital lab.

Reproduction: When it is time for your female dog to be bred, we can stage her heat cycle with vaginal smears. This helps us determine the optimal time for breeding. We are available to help coach your male dog if he is inexperienced, or we also offer semen collection and artificial insemination.
Dentistry: Recent studies have shown that dental health is very important in helping your pet enjoy a long and healthy life. We routinely perform dental cleaning and polishing on all ages of patients. We routinely to do lab work and IV fluids on most patients as a precaution. A thorough exam prior to a cleaning allows us to begin any medications that are needed.
Health Certificates: If you plan on traveling with your pet or are a breeder with clients in other locations, we are able to issue a health certificate following an exam.